Radical Movements: Creature Review
British filmmaker and previous ASFF guest speaker Asif Kapadia (b. 1972) has made his international reputation on a trilogy of archive-driven documentaries. Previous films have looked at fallen icons, including Ayrton Senna, Amy Winehouse and Diego Maradona. But his latest non-fiction piece Creature feels like a radical, if welcome, departure from his earlier work.
Kapadia captures a mesmerising dance-drama inspired by Mary Shelley's Frankenstein. The piece, which is choreographed by Akram Khan and made in collaboration with the English National Ballet, stars Jeffrey Cirio in the title role, who offers a powerful but also tender performance throughout. The bare-stage setting set the scene, with high walls on three sides that lend the story an apt feeling of claustrophobia. The lighting is dim but sensual, glistening off the dancers' bodies. Kapadia lets his camera pick up every pose, every sinew strained, every muscle flexed. The lens moves in so close at times, audiences will feel like they've got the best seat in the house.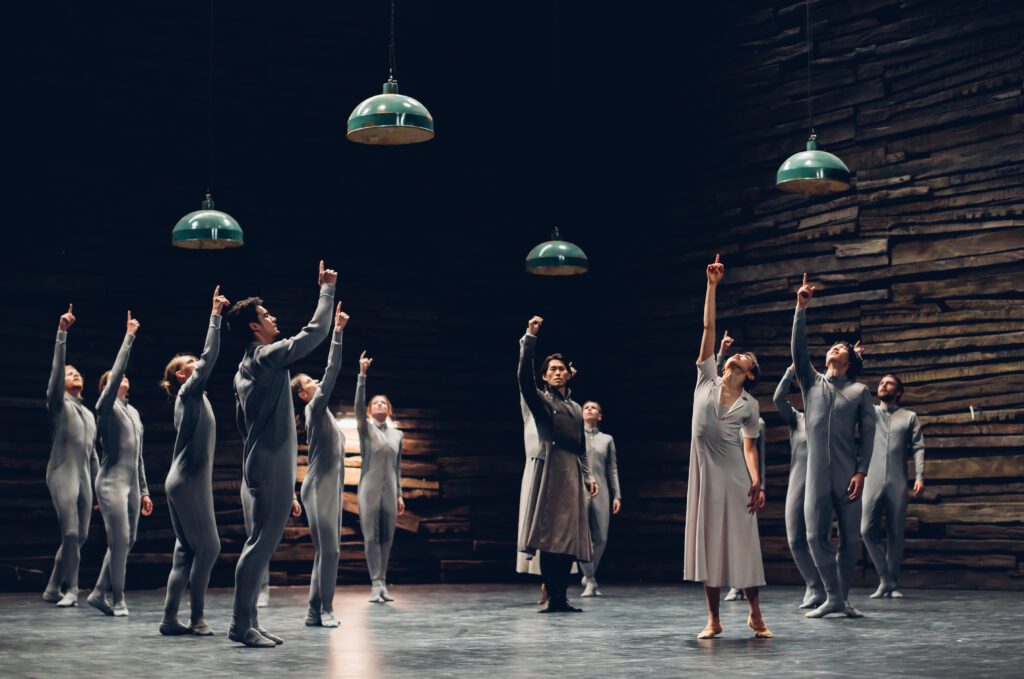 The overall story, which also draws from Georg Büchner's tragedy Woyzeck, has an apocalyptic sheen. The setting is an Arctic research station, perhaps the last habitable place left on Earth, where the Creature is being experimented upon by a Doctor (Stina Quagebeur), at the behest of a military leader, the Major (Fabian Reimair). With mankind facing extinction, this resilient beast might be the unexpected saviour. At the heart of the film is a tragic love story between the Creature and Marie (Erina Takahashi), a cleaner in the facility. Pain and suffering awaits in the wings, although the dancing is so beautiful at times, it's almost easy to forget the high-stakes. Khan's choreography is intensely staged, his performers utterly in tune with themselves, each other and the piece at hand.
Kapadia adds some unique flourishes to the cinematic recording. Actor-director Andy Serkis adds a hypnotic voiceover, and excerpts from Richard Nixon's famed call to Apollo 11 astronauts Neil Armstrong and Buzz Aldrin also fill the air. By the end, as walls begin to crumble in a jaw-dropping finale, viewers are left entranced by this Kapadia-Khan collaboration. Each artist works in perfect harmony to reframe interpretative dance in a poetic, powerful way.
---
English National Ballet, Little House Productions | In cinemas from 24 February
Words: James Mottram
---
Images courtesy of English National Ballet