Groundbreaking Artists' Film
Award-winning projects from the Aesthetica Art Prize
In June, the Aesthetica Art Prize exhibition opened its doors at the prestigious York Art Gallery. Almost half of this year's 20 shortlisted artists, including Main and Emerging prize winners Baff Akoto and Yukako Tanaka, used video to express personal and universal experiences of the world. We take a closer look at their projects, exploring the powerful medium of artists' film.
Akoto's kinetic, elegant and elegiac moving-image piece Leave the Edges took us on a journey through Europe and the Caribbean, as the director set out to consider Africa's diverse diasporic identities through music, dance and poetry. The film features British-Ghanaian flamenca Yinka Esi Graves, Guadeloupean spiritual researcher Yane Mareine and compositions by British-Ugandan musician Alfa Mist.
Recalling the Future saw Japanese-born, London-based artist Tanaka potently examine themes of memory and time. The installation, which features video and sculptural elements, explores her own grandmother's dementia, pondering ideas of existence and disorientation. "Her memory only lasts a minute," she poignantly reflects. "Her consciousness only lasts for a short time and I wonder how she senses the now, like a bubble that swells and pops…"
The body is also an essential tool in Belgian artist Elise Guillaume's Hybrid Terrains, an evocative black-and-white meditation on the natural world that sets out to interpret shapes, sounds and textures on both a micro and macro level. Likewise, Rebecca Lejić-Tiernan's four-channel work Wildfire explores humanity's ever-changing relationship with the environment by drawing contrasts between earthly and unnatural elements.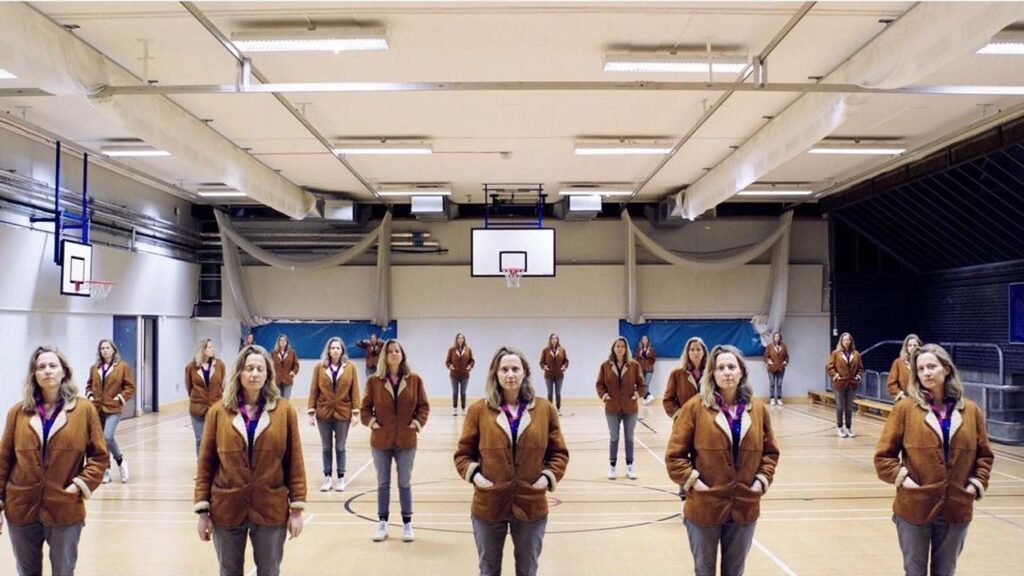 Guen Murroni's Nice To Meet You All touches on themes of healing and growth amongst women who have survived domestic violence. The filmmaker shows us complexities, even joy and humour at times, rather than defining her subjects by their trauma. Elsewhere, Sophie Dixon's Grace is a poetic hymn to Grace Darling, a lightkeeper's daughter who became one of the greatest celebrities of the Victorian era after rescuing survivors from the wreck of the SS Forfarshire.
The art world itself comes under the microscope in The Sarah Maple Show, a broadly comic and self-reflective look at the creative process from protagonist and artist Sarah Maple. This hour-long video piece, which even features a cameo from David Tennant, examines ideas of freedom of expression. "What I do know is I'm an artist," she muses, "and whatever happens, no-one can take that away from me."
Challenging the boundaries of creativity is also central to Bart Price's Good Vibes Only. AI scripts, created using neural network language models, form the basis for his work. He blends his own footage with HD stock clips and royalty-free music, exploring themes of posthumanism, late capitalism and hyperreality.
---
The Aesthetica Art Prize celebrates contemporary art in all its forms, including Artists' Film, video and installation. Submit to the £10,000 award by 31 August.
Words: James Mottram
---