Filmmaker Focus: Victoria Fiore
Victoria Fiore is an Italian-British filmmaker who grew up in London. After making several shorts, including 2018's Sounds of Tehran, she returns with her feature debut Hide & Seek (Nascondino). Shot over four years, this Naples-set film follows "scugnizzo" streetkid Entoni and his grandmother, Dora, during a state crackdown on children at risk of entering organised crime. The documentary played at the 2022 edition of Aesthetica Short Film Festival and has since gone on to be nominated for three British Independent Film Awards, including Best Documentary. We speak to Fiore ahead of the BIFAs about what helped shape this incredible film.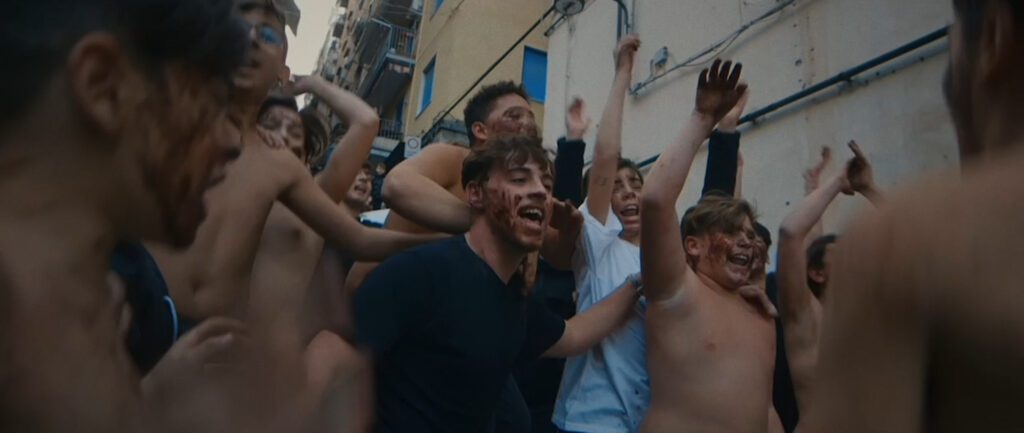 ASFF: How did Hide & Seek (Nascondino) begin?
VF: My family is from a region of Naples quite similar to the area in the film. A good friend of mine is a social worker who works in the Spanish quarters. She invited me along to a workshop and we gave GoPros to the kids. They wanted to do a short film on the tradition of tree burning. That's where I met Entoni. I witnessed his charisma and the respect he had from all of the other children. It was really admirable.
ASFF: You also focus on his grandmother, Dora, in the documentary. Was it challenging to reach her?
VF: We had to make friends with the whole street before we could meet Dora. That meant a lot of work off camera – multiple meals, coffees and chats before anything even happened. Our film differs from others about crime families as it is very intimate. Our cameras get very up close to the people.
ASFF: The film has been nominated for three BIFAs, including Best Cinematographer. Can you talk about your work with Director of Photography Alfredo de Juan?
VF: He was the eyes and ears for most of this film. I was very much guided by the script and the story but Alfredo encouraged us to be "as invisible as possible, as intimate as possible, but as cinematic as possible." We wanted to move beyond the grime and grit of the Italian suburbs seen in TV drama Gomorrah and Claudio Giovannesi's (b. 1978) film Piranhas. Instead, Italo Calvino's words in Invisible Cities rung in our ears. "We need to see within hell what hell is not," he wrote. In the film, we decided to focus on the beauty in the chaos. The camera needed to be up close and moving all the time because that's how Naples feels. The shots are a bit too close for comfort. I think Alfredo did that beautifully. I'm extremely proud of his work.
ASFF: Are you interested in working in narrative features?
VF: I am interested in storytelling, whether it is real or fiction. Even in Hide & Seek (Nascondino), there is a moment where we employ fictional techniques within documentary filmmaking. It is very hybrid in its genre and approach.
ASFF: Hide & Seek (Nascondino) was selected for ASFF 2022. How vital are short film festivals?
VF: Absolutely crucial. When you're starting out, you usually can't make a film on your own, unless you're an artist-filmmaker perhaps. I've met the majority of my crew and the people that I work with at film festivals. It's a place to connect, explore your taste in film and develop friendships through parties, get-togethers and screenings. These events are especially important if you haven't been to film school or don't have access to the industry. Even if you're not working on a project, it's important to watch films screening at festivals and pick up new techniques, especially somewhere so forward-looking like Aesthetica Short Film Festival. We need to keep pushing the language of film forward.
---
The British Independent Film Awards take place on 2 December.
Interviewer: James Mottram
---