Canon: Stories in Motion
Canon launches a short film competition dedicated to the power of storytelling.

Stories are powerful. Studies suggest that facts become around 20 times more memorable to the human brain when they are presented in a narrative format. We see this on our TV screens every day, where data has been brought to life through emotive screenwriting and striking cinematography. David Attenborough's Our Planet, for example, teaches us about the threat of climate change by zooming in on extraordinary moments from the everyday lives of animals. Elsewhere, viral documentaries like Making a Murderer show us how a single story can ask big questions, in this case, about the American justice system.
Such stories can be agents of change: WWF notes that, compared to non-viewers, people who had watched Our Planet reported "increased awareness, concern and knowledge about the environmental issues covered in the series… They also reported stronger attitudes around the need to act." It's not only documentaries that are having a measurable impact on our world. In 2018, Black Panther was a milestone moment for representation onscreen, featuring the first high-profile Black Marvel superhero and becoming the first of its genre to receive a Best Picture Oscar nomination. "What seems like just another entry in an endless parade of super­hero movies is actually something much bigger," wrote Jamil Smith in TIME.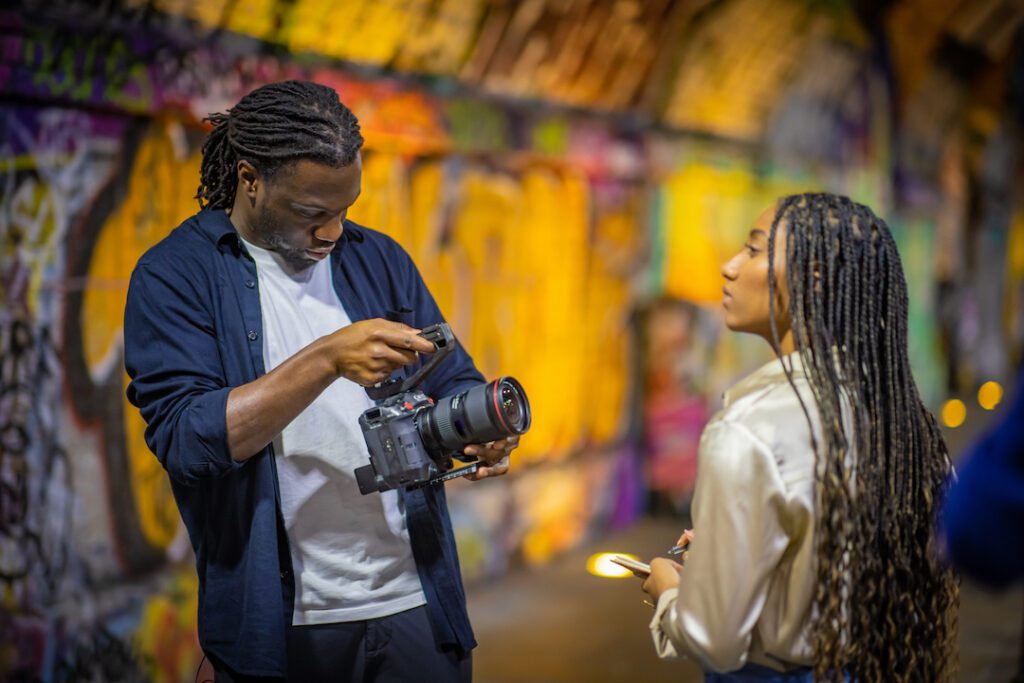 Now, leading imaging company Canon has partnered with CVP to launch Stories in Motion, a brand-new short film competition for filmmakers, cinematographers and content creators aged 18-25 years old. The prize is dedicated to the power of storytelling, inviting entries across Documentary, Scripted Shorts and Music Video categories. It's looking for submissions from the next generation of talent, encouraging young creatives to make their voices heard. With cinema attendance reviving post-pandemic – up 78 per cent on 2020, according to Raindance – and the streaming market ever-growing, this is an essential opportunity for budding directors to show work to judges who have worked with brands including Apple TV, Amazon Prime, BBC, National Geographic and Netflix. Prizes include professional camera equipment from Canon, and the chance to learn from the judges one-on-one. For more details, see below.
Judging
Submissions will be assessed on cinematography (lighting and camera movements); postproduction (editing, colour grading); and originality (subject matter and creativity.)
The judging panel includes Canon Ambassador, Cinematographer and Photographer Elisa Iannacone (BBC World, National Geographic); Canon Ambassador, Cinematographer and Filmmaker Tania Freimuth (Amazon Prime, Sky TV); CVP's Technical Marketing Manager, Jake Ratcliffe; and Award-winning Filmmaker, Editor and Colourist, Ollie Kenchington (Apple, Netflix).
Prizes
Five entries will be shortlisted per category and will win a £200 voucher to spend at CVP, a professional video equipment provider.
From those shortlisted entries, there will be one winner per category who will win an additional £500 voucher.
From the category winners, the overall grand prize winner will win a Canon EOS C70 and RF 24-70 F2.8 L lens, plus the opportunity to shadow one of the judges of their choice for a day
Guidelines
Each participant can submit a maximum of three films, each representing one of the three competition categories.


---
Deadline: 31 March 2023 | Find out more at canon.co.uk
---