Review: Enys Men
Mark Jenkin (b. 1976) scored huge critical acclaim in 2019 for his lo-fi debut Bait, a black-and-white 16mm Cornish-set tale that felt hand-crafted and home-spun. Enys Men is an equally idiosyncratic work, tapping into the love of folk horror that inspired Ben Wheatley's In the Earth and Alex Garland's Men. Still, any sense that Jenkin is jumping on a bandwagon should be swiftly dismissed – Enys Men is every bit as daring and formally experimental as Bait. Despite the switch to colour, it feels like it's been discovered in dusty film canisters left on a shelf for decades.
Set in 1973, Enys Men follows a woman credited only as The Volunteer (Mary Woodvine), who lives on a remote, windswept Cornish island. Amongst other repetitive tasks, she catalogues the growth of a small red flower, scribbling down "no change" in a way that recalls Jack Nicholson in The Shining writing the same sentence over and again. Her only contact to the outside world is a transistor radio and visits from a fisherman (Edward Rowe).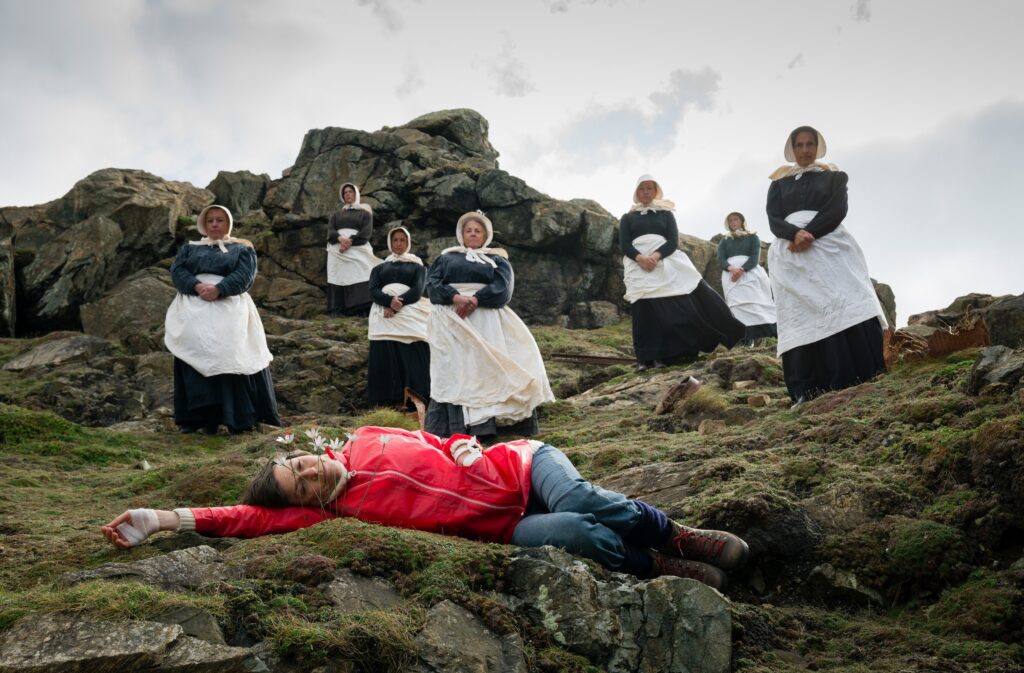 Is madness setting in? Jenkin's psychologically engaging film is too subtle for such an obvious trope. Although not a traditional horror, there's something deeply disquieting about it. Ominous drumbeats populate the soundtrack, and an eerie sound design contributes to the mood, whilst the visions Woodvine's character sees – of dead fisherman from a long-ago tragedy – add to the strange atmosphere. Rarely has solitude felt so insidious.
Enys Men, meaning "stone island" in Cornish, leaves Jenkin's creative spirit intact, and he allows the film to evolve with long silences and little-to-no dialogue. Credit is due to Woodvine, whose bold performance is delivered with physical and mental fortitude. Enys Men is a unique, personal tribute to Cornwall and its mysteries.
---
Enys Men, dir. Mark Jenkin | BFI
Words: James Mottram
Film review published in the December / January 2023 issue of Aesthetica. Shop the magazine.
---