Filmmaker Focus: Jenny Wright
Jenny Wright is an animator based in London. After graduating with an MA in Character Animation from Central Saint Martins, her film My Mother's Eyes played at several festivals, including Aesthetica Short Film Festival 2019, and it went on to win the Tribeca Film Festival Award for Best Animated Short. Since then, she's created a number of distinct animations, including Blue Bottle (2020) and her latest project, Wait (2023), using 2D animation and thick brushstrokes as her preferred style. She also recently contributed to the Tate Kids digital platform's initiative 'Explore Your Feelings With Art.'
ASFF: Your graduation film My Mother's Eyes played at ASFF 2019. How was that experience?
JW: I was really pleased to be part of it. At that point, I was still learning what the different festivals were, but I quickly realized that it was well-established and well-thought of. There seems to be an effort made to make a community around it. I like festivals that do that, that provide more than just random screenings.
ASFF: How have you found navigating the industry when it comes to seeking out animation funding?
JW: Compared to France, Canada or other places in the world, the funding for animation in the UK is still quite limited. I was lucky enough to work on a film [Blue Bottle] that got BFI Network funding and some festivals have linked grants to them. There's two animation-specific residencies that I know of – one in France, one in Canada. Things like that are quite hard to come by if you're trying to do independent work. With the BFI one, I feel lucky. I think part of the reason we got it is because someone else, Jake Cunningham, the producer- writer, did the application. I'm more leaning towards working with freelance producers in the future, because it's a whole other job. So far, I've been producing myself and it can be difficult.
ASFF: What can you say about your latest film, Wait?
JW: I animated it last year in Canada. I was on the studio support program – rather than residency – at Toronto Animated Image Society. It provided me with a production house for the film. I didn't get paid to do it, but I got all their facilities support and a huge discount on site for a month. All of that makes it worth it. It was great. One of the things that becomes difficult as soon as you graduate is that you realise having the time and space to make a film is quite a luxury. Just being able to take the time away and make something that I really wanted to make…[and having their support] trumps me having to put my own money into it.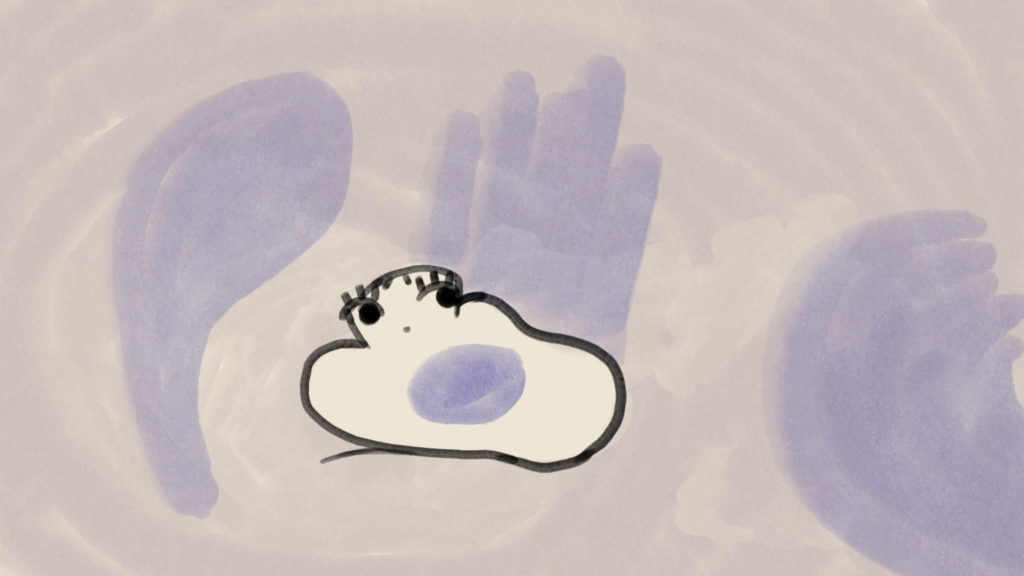 ASFF: You're also involved with the Tate Kids initiative. Tell us more!
JW: It's called 'Explore Your Feelings With Art'…and it's tailored for children. When they got in touch, they said, "This is the theme, here's a contract and a timeframe." They gave me quite a lot of creative freedom but I was told what the story was. We did a bit of back and forth in the initial stages. It was the same with Blue Bottle actually; working with a producer-writer is a really lovely combination because they're creative too. That kind of collaboration seems to work really well for me.
ASFF: Do you feel you have a very defined and distinct animation style?
JW: I am always open to experimenting and exploring other mediums within animation. For me, the style feels more that this is the way that I draw. It's the language that I've developed, and I keep wanting to hone that style. Having said that, the Tate film was different in that it was coloured. I filled in parts of the character rather than just having free lines. There's room for development. For me, one of the great things that you can get out of commissioned work – is that you tend to be challenged or pushed to try something slightly new.
---
hellojennywright.com | vimeo.com/hellojennywright
---
Interviewer: James Mottram